The Duo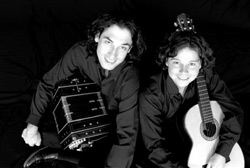 The cultural connections between Europe and South America are reflected in manifold ways both in the persons and in the instruments of the Duo Bögeholz Mosalini.
The bandoneon was invented in Germany (where the traditional repertoire still continues to be played in "bandoneon orchestras") and made its way to Argentina with emigrants. There, its sound was to become the epitome of tango. It was as such that it made its return to the musical life of Europe with the wave of emigrations of the "Conquistadores", the Spanish conquerors. Soon it was providing the Latin American musical world with a distinguishing character. The musical material which was created with it in turn fertilised the compositional creations of the European repertoire for the classical guitar.
Vicente Bögeholz was born in Santiago de Chile, and Juanjo Mosalini in Buenos Aires, where each spent his childhood and a part of his youth. In the 70s, the time of the military dictatorships, their families emigrated to Europe. There, they maintained the living tradition of South American folklore and the tango for themselves, and at the same time intensified the involvement with European music which they had initiated in their Latin American homelands.
It is thanks to a suggestion from the guitarist Roberto Aussel that they came together as an ensemble in the summer of 2000. In selecting the repertoire of the duo, nothing was more natural than to take classical tango and the "tango nuevo" as the starting point. But it reflects the musical versatility of the two musicians that they also seek new and different horizons for the tonal palette of their formation.
A lively dialogue with contemporary composers has already extended their repertoire : The Argentinian composer Tomás Gubitsch (Paris) dedicated to them the work "Cacerolazo Concerto", for bandoneon, guitar and string quintet, which they performed in public for the first time at the Rhineland Music Festival (WDR) in May 2002 together with the double bass player Eric Chalan (Paris) and the Minguet Quartet (Cologne). The programme "Concert d´aujourd´hui" also included the first performance in Germany of the work "Fantasías camperas y urbanas" by Juan José Mosalini in an arrangement by Juanjo Mosalini for exactly this formation.
In July 2003, at the Freiburg "Fest der Innenhöfe" (Festival of Courtyards), the duo for bandoneon and guitar "Dando vueltas" by Andreas Staffel received its premiere. The Argentinian composer Gerardo Le Cam, who also lives in Paris, wrote the work "Invenciones tangueras" for the Duo Bögeholz Mosalini in the spring of 2004, for the same septet formation.
In their program "De las tierras" the duo performs works from German composers dedicated to them : Wolfgang Bartsch ("Strömungen", "Lamento", "Spiel der Kräfte") and Rüdiger Blömer ("Tres encuentros"). To date they have released 2 albums : Marc Aurel / Raumklang ("Villa Luro" 2004, catalogue No. cmn 007 and "Invenciones tangueras" 2010 catalogue No. cmn009).
Vicente Bögeholz
| | | |
| --- | --- | --- |
| Vicente Bögeholz was born into a family of professional musicians in Santiago de Chile. Growing up, he was surrounded by both Latin-American and Occidental music, something that has continued to shape his very broad stylistic spectrum of music to this day. He studied classical guitar in Cologne and Paris, completing his studies with a graduate recital. Concert tours have taken him to many European countries and overseas, where he has given solo recitals and played as a soloist with orchestra. In his various projects and diverse ensembles the focus has always been concentrated on presenting original chamber music for guitar. His numerous debut performances and premieres of works by contemporary composers underscore his dedication as an advocate for innovative and modern-day music. | | |
Juanjo Mosalini
| | | |
| --- | --- | --- |
| | | Out of the direct heritage of the bandoneon tradition, Juanjo Mosalini exploits all facets of his instrument. Yet he is above all a passionate interpreter of important composers of the twenty-first century. Juanjo Mosalini lets the fueye (bandoneon) speak to his audiences throughout the world in classical, modern, and contemporary musical languages. In over fifteen years Juanjo Mosalini has become a permanent fixture among Argentina's musical avant-garde in Europe. |