Concert Programs and Recordings
NEW RELEASE
About the recording "Delta y Mar"
The Paraná delta and the sea around Concepción : those are what the title Vicente has chosen for his most recent work immediately bring to mind. To me, they are like two mirrors : in one you can see the two cities of our birth, in the other our parallel journeys as sons of European families who took them to Europe during the tragic decade our two countries suffered through. Even though these images may not have been what Vicente was thinking of to begin with, it soon became clear to us they should be reflected in the title of this third album.
Delta y Mar is a subtle mix of the flavours of our two countries. The Chilean influences of the rasguido in Vicente's guitar and the colour of the milonga in the bandoneon are a synthesis of our fifteen years working together.
After performing tango classics, contemporary works and undertaking various commissions, the need to find our own voice led us to this work. Which explains why you'll find pieces arranged in a very personal way and our own compositions on the same album. Wolfgang Bartsch and Rüdiger Blömer round out the collection as inspirers of our journey. They gave us a window onto their world while absorbing our own into it.
Delta y Mar is our history, our roots, our journey but it's also the product of our two sounds, our South American and European backgrounds made one.
Juanjo Mosalini
— -
Tango Inventions
(for bandoneon, guitar and string quartet)
Heard for the first time in the "Tango Inventions" are new and timely developments in the avant-garde tango scene in Paris. The programme provides insights into contemporary and trend-setting tango music set for bandoneon and guitar. Of particular importance is the repertoire of the Bögeholz Mosalini duo as expanded by the string quartet : The "Cacerolazo Concerto" by Tomás Gubitsch (2002), "Invenciones tangueras" by Gerardo Le Cam (2004) and "Fantasias camperas y urbanas" by Juan José Mosalini, in an arrangement for septet by Juanjo Mosalini.
About the recording "Invenciones tangueras"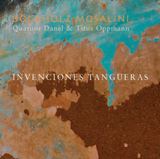 What is incredible about this constellation is that performers of different origins and musical languages have found a common form of expression that captures the essence of Argentinian music. Together with the string quintet, the duo of Vicente and Juanjo have done more than justice to the works of the three composers with their interpretations. It is not a coincidence that, with his Cacerolazo Concerto, Tomás Gubitsch gives proof of his urban roots : he stems from Buenos Aires. Your music, Tomás, I feel in it a remonstrative beating on the pot. (The beating together of pots was used by the people many a time to express their discontent.) Through your anger, your yearnings, and frames of mind, your work tells me about those who provided for our banishment, our mutilation. What they do not know today is that we are closer than ever before. It does not surprise me that Gerardo Jerez Le Cam created a tango-hued rainbow with his Invenciones tangueras. I hear this "musical noise," which reaches me from the bars in Buenos Aires, including the special and unmistakable mood of a soccer broadcast. Out of Gerardo's wide-ranging spectrum I hear the good taste that is mirrored in the universe of sentimentality. In his consummate manner, Vicente shows in his guitar playing a profound knowledge of Argentinian folk art. It is based on an exceptional musicality - one of the very great guitarists ... Juanjo with his fueye ; my beloved son closes the circle, and continues in a worthy manner the tradition that I learned from my father. I admire you for setting such a high goal, and for having understood the magic of the bandoneon. The string quintet ... What coincidence brought them together ? An uncommonly fortunate act of providence. Not to mention the results. Respect and seriousness manifest themselves clearly in the musical quality of these performers. Simply wonderful work in view of the great challenge of this recording. This musical document opens new paths and reveals immortal Latin-American cultural assests.
Juan José Mosalini
— -
Flores Negras
"Black Flower" symbolizes a bouquet of tangos from the past and the present, presented by the talented duo of Juanjo Mosalini and Vicente Bögeholz (Paris/Aachen). The Argentine bandoneon virtuoso and Chilean guitarist play both their own music and works by Cobián, Gubitsch, Piana, Piazzolla, Schlosberg and Thomás. A program steeped in contrasts displays the rich stylistic variety of the tango and its music.
About the recording "Villa Luro"
Intimacy.This is the first notion the new album by Juanjo Mosalini and Vicente Bögeholz is suggesting to me. It is, perhaps, the true way to play music. Intimacy of each one and shared intimacies. Shared between them and generously shared also with us, the audience.
It is clear, we could talk at great length about the virtuosity shown by each one of them and about the poetic timbre they achieve to let well up in their respective instruments. We could consider the amazing maturity of these young musicians. We also could talk of their profound knowledge of Argentinian music and of the tango in particular. We could discuss the meticulous gold work their interpretations are revealing. But we rather will talk about emotion. About various emotions, about the landscapes of emotions Vicente and Juanjo are inviting us to wander through together with them. About the music they are able to create behind the notes written on the five lines.. And again the same word is imposing itself.. intimacy. The space where cheating does not serve for anything.
Intimate relations between the instruments and between each other. But also between the instrumentalists and the scores they are performing, in order to weigh up the variety of styles, of epochs, and of sensibilities both of the compositions and the composers. The melodies, the harmonies, and the rhythms are rotating around these two, they do belong to them. They've made them to be their own. They are "telling" them as only they can do, choosing their own personal path. This is shining from inside without any need of dazzling. This disc is a witness of those rare privileged moments which with musicians who are meeting to play together would appear as if conjured by magic and not asking permission. And without any audience. It is what happens at the end of a rehearsal or in a night restaurant after a concert, the lights of the room already spent and only a last table with some people being left as late guests. Moments of intimacy during which everything superfluous has been abandoned. Moments only existing for the mere pleasure of playing music together, nothing more than that. This is precisely where the generosity of Vicente Bögeholz and Juanjo Mosalini is residing - the musicians who, as a habit, are taking for themselves those secret gardens. They decided to share them with us. And after listening to this disc therefore I don't really want to applaud. I rather am prompted to say in a low tone in which one is saying intimate things : "thank you, Juanjo and Vicente".
Tomás Gubitsch
---